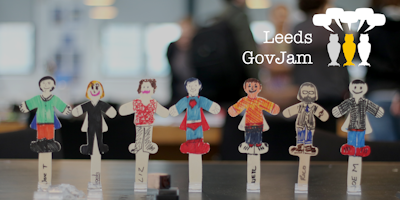 Register
Leeds GovJam is a chance to learn by doing. Your team will collaborate rapidly in designing and testing solutions to public problems. You'll get more than great new ideas and service design methods: by the end of the event you will have the experience of co-creating a working prototype. It's part of the Global GovJam, an international event that applies tools and techniques of service design to the world of government…
Latest Event Updates
Our sister event Leeds Service Jam took place last weekend. See their prototypes and photos here…
Leeds Service Jam
Leeds Service Jam was wonderful this weekend so we'd like to say a big THANK YOU to all the Jammers and everyone involved in making the magic happen – you are the Jam!

To the heroes at UKGovcamp, the 'unconference' for people interested in how the public sector does digital stuff, who also give people like us grants to put on events  – we thank you. To the brilliant service designers, innovators and lovely human beings at Stick People, Matt, Kathryn, Sharon – thank you. To the super-collaborators and open data innovators at ODI Leeds who put up with us each year in their space – thank you. To our facilitators, mentors and speakers, Emma, Tero, Linda, Lisa and Jonny, who shared knowledge and helped move the jam along at pace while having fun – thank you. To our fab jam (conserve/energy booster) supporter, Hannah at Fruity Kitchen – thank you.
Massive thanks…
View original post 104 more words
The Global GovJam is well and truly over for another year. So, well done Leeds GovJam Jammers. You came. You jammed. You conquered. It really is incredible when Jams take shape and ideas come to life through prototypes that are tested with users, refined and developed in a whirlwind 48-hour sprint to the final show and tell.
Well done, everyone 
You can check out all the projects that were created around the world this year over on the Global GovJam platform. You can also marvel in wonder at how Leeds Jammers realised these ace projects in just 48 hours…
Thank you
We would like to take this opportunity to thank our sponsors, DWP Digital Academy, Stick People and UKGovcamp, plus the amazing space that is ODI Leeds, and everyone who got involved in Leeds GovJam 2016.
Last but by no means least, we would also like to give thanks to the awesome Global GovJam HQ team for starting this thing, growing this thing, and for choosing to spend this year's Jam in Leeds. It was lovely to have you here! 
A few reviews
Learn more about the experience of DWP Digital Academy at GovJam 2016 in this fab review film that shows Sophie, Ben, Chloe, Becky, Joe and Liz talking about user research, agile techniques, and what they thought of Leeds GovJam.
There is also this brilliant blog by original Leeds host turned Global GovJam HQ team member Matt Edgar – 10 things I learned on the Global GovJam HQ team.
"The jamming movement across the public sector has massive potential, and I have learned loads about making something happen on a shoestring at a global scale…"
And, here's a write-up about the experience from a volunteer's point of view by Lisa – Why I volunteer at Leeds GovJam – along with our Flickr photo gallery.
"Being a jam helper has helped me learn loads about service design, design thinking and how small acts of creativity can create bigger change over time…"
Thanks also to Emma Coppack from Digital DWP for sharing her perspective in this excellent blog – Jamming with Lego, not guitars: My experience of GovJam 2016.
"The Leeds GovJam was a wonderful experience, it showed what is possible when you get out of the office, speak to users and work in an agile and iterative way."
We salute you
If you have a blog, write-up or thoughts to share about Leeds GovJam, please do let us know so we can link up with you in this post.
Thank you – #YouAreTheJam – we salute you!
Sharon, Liz and Lisa.
It's lovely to see so many positive blog posts from Leeds GovJam participants. Here's a round-up of the ones we've seen so far. Please let us know if you've also posted about Leeds GovJam so we can link to it here.
Tom Simcox – Fearless service design at Leeds GovJam:
I was amazed at how much we created in just 48 hours. GovJam is all about trying new ways of designing and collaborating with others. We did it while having lots of fun!

But we did more than that.

We discovered unmet needs of the citizens of Leeds. We started designing public services to meet them. We did it by being fearless, by going out and talking to people to find out how we could make their lives better.
Our sponsors Digital DWP also made this fantastic video diary of Tom's Leeds GovJam experience:
Emma Browes – Jammin':
What I particularly enjoyed was  –

Learning by doing, not talking

Keeping it fast & dirty – fail fast & iterate

Pushing forward with your minimal viable product – don't wait for perfect

Aiming sky high – there are real opportunities to use awesome design to make a MAHOOSIVE difference to people's lives in the public sector.  We shouldn't aim any lower.
Liam Bolton – Leeds GovJam 2015:
As a first-time Jammer admittedly I was not sure what to expect from it all. By the end of the first day I was hugely inspired by the GovJam and the people involved. Everyone at the Leeds GovJam wanted to use their skills and knowledge to bring about people-centred change to public services through creative service design. It was also a lot of fun! Taking part was personally a huge privilege.
Simon Wilson – Leeds GovJam 2015: in just three points:
After Leeds GovJam on Thursday evening I wrote those points down. In short I felt Leeds GovJam was so good! I might have been getting carried away, rose-tinted specs, and all that. I held back from bashing this out quickly, to get it out as soon after the event as possible. Let it settle a bit…

My thoughts on GovJam are settled though. I think it's one of the few events I've been to where just about everything seemed to click.
Matt Edgar – Thanks, everyone! We just rocked the public sector:
Stand-out moments for me (sorry if this is one of those "you had to be there" posts 🙂

* Seeing a full house for the Tuesday evening kick-off
* Ben Holliday's powerful talk about doing user-centred design at DWP
* Stick-figure voting to organise the project teams
* Handing out new-style jam passports including 10 service design methods to try
* Watching the space empty out on Wednesday morning as teams headed into Leeds to do their first round of user research
Kathryn Grace – Leeds GovJam 2015 and the follow-up Understanding and sharing the problem… finding opportunities:
…when Tom Riordan CEO of Leeds City Council did his little talk on engaging with service design and design thinking, and then a council worker talked about council interest in their service prototype in their final presentation… tears of joy over flowed. It was my Martin Luther King moment… I had a dream – Thank goodness it wasn't just me… we all shared it in some way at Leeds GovJam this week – we wanted to rock the public sector and we did.
We're going to write more about Leeds GovJam 2015 over the next week or so, but for now you can see all the projects on govjam.org …
… and take a look at Lisa's lovely photos of the event…
People we need to thank:
Global GovJam organisers Adam, Markus and Natasche for making this amazing event happen around the world
Twin jammers at the Athens GovJam for sharing their progress through their first jam
Digital DWP for being the loveliest event sponsors imaginable
Ben Holliday for his inspirational talk on the opening night
Hosts Kathryn and Paul at ODI-Leeds for keeping us fed and watered, and for the perfect jamming space
Councillor James Lewis and Leeds Council CEO Tom Riordan for joining our end-of-jam show and tell
All the jammers, including contingents from Leeds City Council, DWP and the rest of the World!
The volunteer team who give up many hours of their time before, during and after the jam
Stay tuned for more service design and design thinking goodness in Leeds. Announcements coming soon!
Matt and the Leeds GovJam team 🙂
Less than one week to go before jammers gather around the world to rock the public sector!
For last year's Leeds GovJam we put together this collection of links to background reading and resources on service design and design thinking.
Happy browsing! Do please let us know in the comments below if you have any favourite resources not mentioned here…
What is Service Design?
Useful tools
An awesome part of GovJam is the feeling of being involved in a global event. That unifying sense of shared purpose as teams all over the world collaborate against the clock to innovate around a global theme. A good way to keep in touch with everyone during the Jam is to follow the hashtag, #GGovJam. Another way is to hook up with a jam that's happening somewhere else. This is when 'Twin Jams' are useful.
The idea of Twin Jams was developed by GovJam HQ to allow two jams to connect before, during and after the Jam. This gives teams a partner with whom they can share progress and mutual support. You might want to ask your Twin Jam about how they promote the Jam in their part of the world. You may want to ask questions about your ideas. And, you will most likely want to share more detailed feedback on prototypes than is possible in a 140-character tweet. This is important because jamming is not just about arriving at the destination – delivering working prototypes. It's also about the journey we all take over the two days, developing networks, learning to do stuff better, together.
Hooking up with a Twin Jam can be done via webcam, a Skype session, Hangout or similar. It is often helpful to schedule some time when everyone in your team can gather around the webcam. During last year's Jam we used Skype to connect with teams in Whangarei, Rotterdam, Milan, Ottawa, Manchester and Tokyo. This was a lot of fun and felt quite Eurovision-esque: 'Hello, Tokyo, can we have your votes, please?' Here, the general idea is to 'show and tell', to share progress and feedback. Connecting with lots of different jams was great but it took a bit of organising to coordinate calls across all the different time zones. So this year we are excited about having one main partner, our Twin Jam, to share our journey in more detail…
We are now pleased to announce that Athens GovJam (@AthensGovJam) is our Twin Jam for 2015 and we're looking forward to many happy connections!
Follow the fun via #GGovJam (plus, #LeedsGovJam for Leeds updates and #AthGovJam for Athens).
Also, if you want to join us in Leeds, there are still some tickets remaining at Eventbrite. 
— Lisa Jeffery
For the second year running, Leeds GovJam will be at the wonderful ODI-Leeds.
You can get a feel for the space by looking through Lisa's photos from last year's Leeds GovJam.
ODI-Leeds is a light and open collaboration space on the top floor of Munro House…
There's loads of room for up to 50 jammers to work in project teams…
And it's right opposite the bus station and market, making it really easy to take your prototypes out onto the street…
We're also delighted to announce that Leeds GovJam 2015 will be supported by UKGovcamp Grants.
UKGovcamp is the free, annual 'unconference' for people interested in how the public sector does digital stuff. The organisers put some of their left-over sponsorship money into a grants pot each year, and use it to help other similar events get off the ground.
We're doubly fortunate because UKGovcamp has also supported our sister event, Leeds Service Jam. Thanks!
Could your organisation help to make Leeds GovJam 2015 even better?
Leeds GovJam is run by volunteers, and nobody makes a profit from it. Sponsors and supporters help us keep costs down, open up new possibilities, and provide extra treats and prizes to jam participants.
In return your organisation gets to show its support for public sector innovation in a high-profile and practical way.
To find out more, contact Matt Edgar – matt@mattedgar.com – 07964 763252